The New York Post was hacked early Thursday, and the result was a barrage of awful, disgusting headlines and posts. The Post responded quickly, confirming what was happening and halting further disruptions. Still, hackers had plenty of time to go in and create a flurry of reprehensible content.
JUST IN – NY Post's website and Twitter account hacked. pic.twitter.com/Re15ZJslAE

— Disclose.tv (@disclosetv) October 27, 2022
Some of the worst offending headlines can be seen below: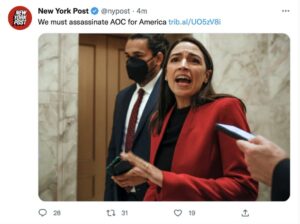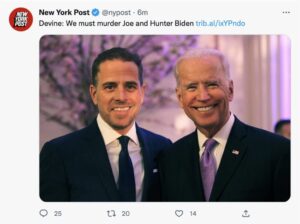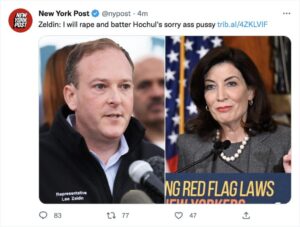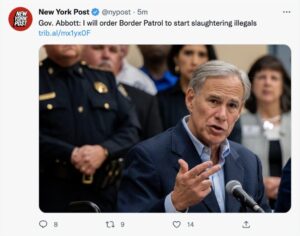 CNBC was quick to report on the crazy turn of events:
The New York Post's website and Twitter account were hacked Thursday, as racist and sexually explicit headlines about Rep. Alexandria Ocasio-Cortez and President Joe Biden were published.
The posts were removed shortly thereafter, and the News Corp-owned New York tabloid newspaper's website was operating as usual by midmorning. The Post has 2.8 million followers on Twitter.
A New York Post spokesperson confirmed in an email to CNBC that the posts resulted from a hack.
Amazingly, as obvious as it was that something had gone terribly awry, Democrats implicated in the posts pounced on the chance to further sully the Post's reputation and turn it into a political gain. Incumbent New York governor Kathy Hochul's team released a statement almost immediately, acting as if the Post was actually responsible for the content being spewed:
"The New York Post has long fostered an ugly, toxic conversation on their front pages and social accounts, but these posts are more disgusting and vile than usual," the statement said. "The New York Post needs to immediately explain how this reprehensible content was made public. While the Post has made its preferences very clear in the New York Governor's race, there is no room for this violent, sexist rhetoric in our politics. We demand answers."
It should come as no surprise that the Post was targeted. They famously exposed the Hunter Biden laptop scandal in October of 2020, a shocking expose that should and would have sunk Joe Biden's chances in the presidential election just weeks away at the time.
Instead, social media squashed the ability to share the story and the so-called "intelligence community" circled their wagons around the corrupt Democrat candidate, labeling the laptop story as nothing more than fabricated Russian disinformation. The New York Times and other media outlets eventually conceded the contents on the laptop were real, but by then Joe Biden had been sworn into office.
CNBC also noted that this wasn't the first time such an infiltration had occurred. Last month, the outlet Fast Company was forced to shutter its operations for almost a week after similarly experiencing the production of "obscene and racist" content went out.
This is the second hack on a U.S. media publication in recent weeks. In late September, Fast Company shut down its website for roughly a week after hackers gained access to its site and sent out "obscene and racist" push notifications to Apple News users.
At the time, Fast Company said on Twitter its content management system was hacked and impacted its Apple News alerts. The company, which also uses WordPress, suspended its website immediately. It later said it retained a global incident response and cybersecurity firm to investigate the matter.
"*" indicates required fields