Former President Donald Trump might be under attack from all directions as he fights to be the GOP presidential candidate for the third time and wades through a sea of indictments while moving toward that goal, but he still has the time and energy to crack some of his classic jokes, such as one he recently made about Biden's golf game. That came during a South Dakota speech, the same one in which he was endorsed by South Dakota Governor Kristi Noem, during which Trump focused on getting his message out their yet again while not pulling any punches directed Biden's way.
One such punch was when Trump brought up Biden's golf handicap, a way of ranking one's ability to play well based on past scores. Trump said, "He makes up these stories. This guy. The worst is, did you ever see his golf swing? Trump asked the crowd. He said he's a six handicap!"
Continuing, Trump noted how ludicrous that is, saying, "Six handicap's a good golfer! You know what, these six handicaps, that's a good golfer. This guy can't hit the ball to Kristi. He's a six handicap! I think that's the greatest lie, if you wanna know the truth." WATCH the video below:
Trump's comment was likely a reference to a ranking of US presidents and their golf handicaps put out by Golf Digest.  At the time when Trump mocked Joe Biden's golf game on video, the rankings put Trump first and Biden second, giving Trump a very good 2.8 and Biden an unbelievable second place, 6.7. Given Biden's seeming feebleness, the score, unless extremely outdated, was not believed by many people. One commenter, for example, said, "Not a chance joe Biden a 6.7 the man can't even ride a bicycle properly let alone split a fairway."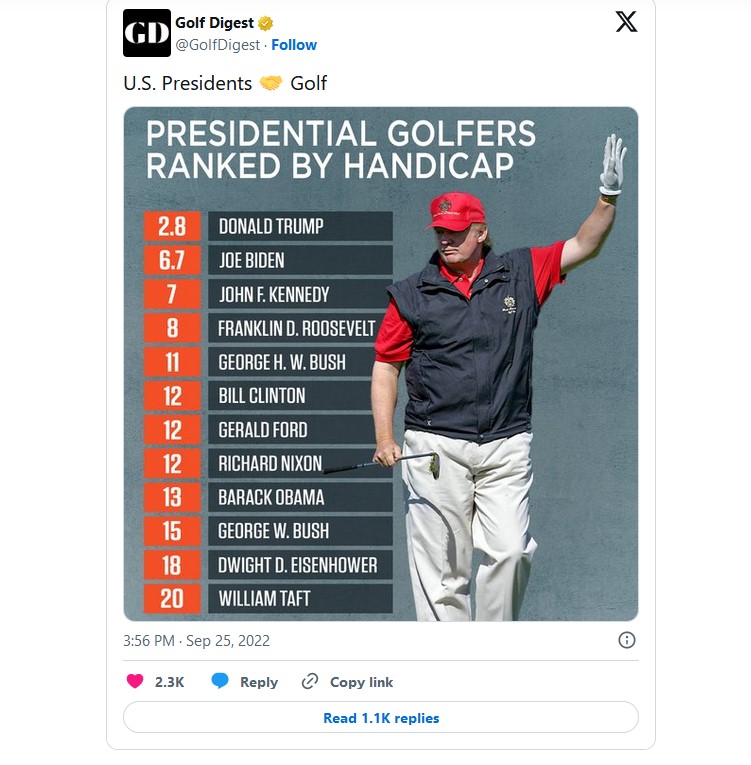 During the same event in which Trump hilariously mocked Biden, Gov. Noem warmly introduced him and made her formal endorsement of him for the race, saying, to the wild applause of the crowd, "It is my honor to present to you the man in their arena. He is a man of significance. He is the leader, the fighter that our country needs. He has my full and complete endorsement for President of the United States of America."
Continuing, Gov. Noem vowed to fight on his behalf and do anything she could to help him in 2024, saying, "I will do everything I can to help him win and save this country. Ladies and gentlemen, the 45th and the 47th President of the United States, Donald J. Trump." In a tweet on the matter, Gov. Noem also said, "The ONLY person in this race who will put America back on its foundation is @realDonaldTrump. He has my full and complete endorsement. I will do everything in my power to help him win to save this great country."

Also during her introduction, Gov. Noem added that all the other Republican presidential candidates had been invited to the event, but they reportedly declined. Donald Trump had shown up. "All of them told us that they had better things to do. But when President Trump was invited to come be with you tonight, he said, 'I will be there,'" she said.
"*" indicates required fields