Walmart recently had to swoop into its inventory department and pull a line of shirts that contained an "accidental" swear word in them after the bawdy shirt was exposed in a now-viral Tweet that garnered more than 2.5 million views.
The shirt, sold only in Canada before Walmart pulled it and available for just five dollars, quickly became a piece of internet history. Some people on Twitter posted photos of it with captions like: "I need this shirt before Walmart realizes what they have done. Find the hidden word." The New York Post did a good job of describing it, here's what they said about the shirt's hidden word:
At a glance, the T-shirt seems rather innocuous: It sports a typical pro-recycling slogan with the letters "RE" in upper case, followed by the four lower-case suffixes "cycle," "use," "new" and "think."

However, upon closer inspection, it becomes apparent that the first letters of each word inadvertently spell the word "c–t."

Walmart was quick to scrap the accidentally profane shirt from shelves.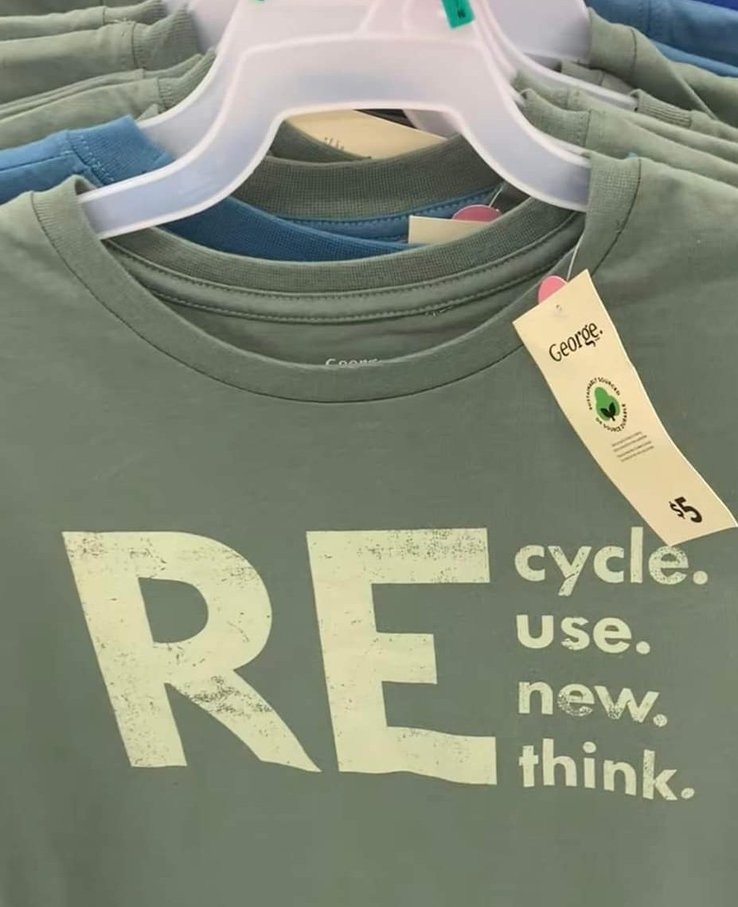 Speaking to Newsweek, a Walmart spokesperson said, "This was not intentional, and the t-shirt has been removed. For context, this item was only available in Canada." Newsweek, adding more details about the shirt, said, "The t-shirt that was on sale for $5 in Canada stores is part of the George fashion label that has been owned by Walmart since 1999. The brand is a huge success in the U.K. where it is stocked in ASDA supermarket stores but is seen less in North America."
Commenters on Twitter had a field day with the shirt, saying things like "Finally. The perfect shirt" and "Laughed out loud when I spotted the hidden word. Now I want that tee shirt too. ;)." Another commenter joked that the designer of the shirt knew just what he or she was doing, saying, "What's the over/under that whoever designed that shirt knew exactly what they were doing?"
The New York Post, adding a bit more context to the shirt in its report, noted htat this isn't the first time Walmart has had to pull such a shirt, saying:
This isn't the first time Walmart has yanked clothing for featuring an offensive phrase.

In 2017, the budget retailer removed a controversial T-shirt urging violence against journalists from its website after a news association asked for it to be pulled amid "today's vitriolic political and ideological environment," according to a report.
Still, the shirt added a bit of levity and good humor to a wekk otherwise full of problems, whether they be the Deep State's attempts to lock up Trump, the disaster at the border, or leftists taking to shooting up public areas.
"*" indicates required fields