A Canadian tennis player balked at the news that country-turned-pop music sensation Taylor Swift owned what is believed to be the third-wealthiest pet in the world.
Eugenie Bouchard expressed both shock and curiosity in a social media post, asking her followers to explain how Swift's cat was able to amass what is being reported as a staggering $97 million net worth. "Can someone explain this to me?" Bouchard captioned.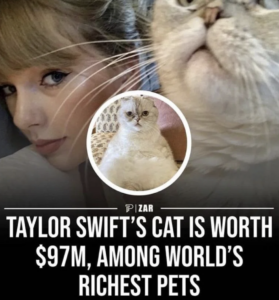 Sportskeeda noted that the cat, Olivia, had appeared in a few music videos and had been featured in a few successful ad campaigns.
Swift's pet cat, a Scottish fold named Olivia Benson, was recently revealed to be the third-richest pet in the world, according to a new report from All About Cats. Olivia was valued at a staggering $97 million, courtesy of her being part of several music videos alongside owner Taylor Swift, while also featuring in numerous big-budget ads.
It remains to be seen who would be the heir to such a fortune and how that wealth is factored in for taxes. Do cats have a social security number? It would seem as if Swift had found a way around growing her wealth without being liable for an extra tax burden.
For one answer, PatchPets wrote that pets cannot be liable for income taxes because they are not "legal" persons.
In general, however, the answer is likely to be no, pets do not pay income tax. There are a few reasons for this. First, Pets are not considered legal "persons" under the law and, as such, are not subject to the same taxes that humans are.
The IRS is also vague on how this situation could be handled.
It should come as no surprise to readers that Swift herself is fabulously wealthy as well, worth over an estimated $400 million after a successful music career, tours, and documentaries, and ad spots.
Swift's 2002 Reputation Stadium Tour grossed a whopping $266 million on its own.
Canada's Bouchard, still flabbergasted by the fact a cat can earn eight figures worth of income, is set to play in the Australian Open this month. She is a former runner-up at Wimbledon but has spent the past year recovering from injuries.
Sportskeeda ended its story highlighting her own challenges and next steps.
On the tennis side of things, Eugenie Bouchard touched down in Melbourne a couple of days ago, where she will be playing in the Australian Open qualifying rounds, which begin on January 9.
The former Wimbledon runner-up, who spent most of last season on the sidelines while recovering from shoulder surgery, will continue on her comeback trail on tour this year.
For all of the talk about the supposed income gap in male and female tennis – which is easily decided by looking at who generates most of the revenue – perhaps a better question we could all be asking is how do we shelter money from tax collection agencies by paying our furry friends?
There are so many questions that spring up from Bouchard's post. How do animals enter into legal contracts? How do animals get checking accounts? How do I start paying my own pet?
Maybe one day Swift will share her secrets in a groovy song.
"*" indicates required fields