A new report shows that the Republican National Convention spent exorbitant sums of money in 2021 on frivolous, wasteful sprees meant to pamper the in-crowd elites with lavish resort stays, private jet flights, and a host of other schmoozy events rather than invest in the party or movement.
Exclusive reporting from RedState reveals the extent to which RINO traitor Mitt Romney's niece Ronna McDaniel burned through cash in order to live large and spoil her fellow self-styled elites. McDaniel has chaired the RNC since 2017, and it is this timeline that RedState explored for its report.
Among the expenditures in 2021 alone were more than $500,000 spent on private jets, $64,000 at clothing retailers, and more than $300,000 on floral arrangements, RedState uncovered.
RedState journalist Jennifer Van Laar wrote:
To determine how that compared with the rest of Ronna McDaniel's tenure, RedState examined RNC expenditures from 2017 through 2022. In addition to a review of Federal Elections Commission (FEC) data, RedState spoke with current vendors, state party officials familiar with the workings, former staffers (some from McDaniel's tenure, and some who worked for prior chairs), and several current RNC members to verify numbers and dates. Most were only willing to discuss the matters on background, and all were promised anonymity to avoid potential retaliation.
It is difficult to accurately categorize all of the expenditures because a significant number of transactions seem to be misclassified. For example, nearly $5,000 spent in 2022 at Lululemon, a luxury athletic apparel brand, was classified as "office expense," as were two expenditures totaling $9,300 at Madison Square Garden in 2017.
Van Laar provided a more detailed chart of the spending referenced, as seen below: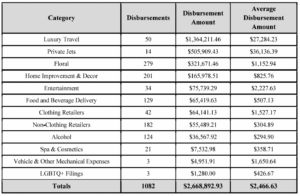 In all, from 2017 to the present, according to FEC filings, the RNC has spent more than $23 million in just five areas alone. In all, the McDaniel oversaw the spending of $3.1 million on private jet services, $1.3 million on chauffeur services, $17.1 million on "donor mementos", and an astounding $750,000 on floral arrangements.
Other expenses show lavish box seats at NFL games, multiple outings to Top Golf for tens of thousands of dollars, and other entertainment events such as thousands of dollars spent for a trip to Madison Square Garden.
As for the donor mementos, Van Laar wrote:
Things really get interesting when the RNC's spending is compared to that of their DNC political rival. Van Laar continued:
For perspective, the Democratic National Committee has spent $1.5 million on donor gifts, $35,000 on private jets, and only $1,000 for floral arrangements during the 2021-22 election cycle. Longtime RNC committee members who spoke with RedState said that other than during Michael Steele's time as chair, it has not been standard practice for the chair to use private jet or chauffeur services.
A spokesperson for McDaniel pushed back against this narrative, citing that the revealed spending amounted to less than 1% of total revenues generated by the chairwoman. 
Still, country music star John Rich blasted what he saw as a political institution taking advantage of everyday conservative Americans. Rich said:
"The leadership of the RNC has taken advantage of millions of regular, everyday Conservatives by pretending to support what Patriots support, but in reality, are blowing untold troves of cash on extravagant nonsense, and supporting RINO candidates while ignoring America First contenders. They are nothing more than controlled opposition. The RNC ran ads in 2021 raising money under the phrase 'Fight for Trump!' while simultaneously telling Trump and his team to 'stand down' from questioning the election results, stating he was 'ruining the party."
Featured image: Gage Skidmore from Peoria, AZ, United States of America, CC BY-SA 2.0 <https://creativecommons.org/licenses/by-sa/2.0>, via Wikimedia Commons
"*" indicates required fields