Record-holding Jeopardy contestant-turned-host Ken Jennings faced criticism from a woke Hollywood has-been after he crossed the writers' strike and continued his work on the famous game show.
Jennings got blowback from former child actor Wil Wheaton, who came to the public's attention for his portrayal of Wesley Crusher on Star Trek: The Next Generation and then parlayed that into geeky roles, most prominently with a recurring role on the popular sit-com The Big Bang Theory.

Wheaton took to social media where he pounced, saying, "This is a VERY small town, Ken Jennings, and we will all remember this," he wrote. "Your privilege may protect you right now, but we will *never* forget."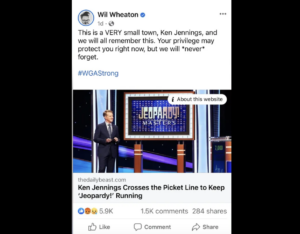 Not content with his empty virtue signaling, he followed up that post by continuing to say in the comments section, "Hey y'all, if you're here to s— on unions, you can f— right off. I've been a union man since I was a union boy, and I will be a union man until the day I die. If you're here to s— on the workers of the world, or to make excuses for someone who is currently doing that, go f— yourself and don't come back."
The party of tolerance strikes again, you could say. If these people really cared about freedom of choice, then Wheaton should be commending Jennings for doing the brave thing and rejecting the groupthink that so heavily infects Hollyweirdos, but in true woke fashion, he blasted the congenial and well-liked Jennings for daring to step out of bounds.
In Jennings's case, it doesn't seem like he has to work for the money given his massive financial success as a contestant and the future earnings generated off his exposure, but Wheaton exposed himself for the obnoxious, entitled brat most of the pampered actors are. They can easily afford to not work, but many people facing a strike in their place of work simply cannot.
If crossing the picket line makes the difference between paying rent or not, it's not a tough choice. What's more, in the case of the writers' strike, these losers have churned out terrible woke television and film scripts for decades and it seems they have hardly earned themselves a raise.
Fox News said that Jennings made the decision to "continue filming the show" even as his co-host, Wheaton's fellow Big Bang alumna Mayim Bialik, did not. Fox wrote:
Jennings seemingly chose to continue filming the show despite his co-host Mayim Bialik's decision to step away from her duties for the time being. 

Bialik's decision reportedly was in support of the WGA writers who went on strike on May 2.

The union is seeking higher minimum pay, more writers per show and less exclusivity on single projects, among other demands – all conditions it says have been diminished in the content boom of the streaming era.
Fox continued, noting that this writers strike is the second in as many decades. Fueled the last time by concerns over streaming and now this time with the introduction of AI capabilities potentially making the over-educated woke writers useless.
"The last Hollywood strike, from the same union in 2007 and 2008, took three months to resolve. With no talks or even plans to talk pending between the WGA and the Alliance of Motion Picture and Television Producers, which represents studios and productions companies, there is no telling how long writers will have to go without pay, or how many major productions will be delayed, shortened or scrapped," Fox said.
It was difficult to find even one comment that supported Wheaton's position, with a practically unanimous voice defending Jennings.
"Unions can be good but too frequently they push even a hugely profitable company to the brink of bankruptcy. Just look at what the public unions have done to states. California is over a trillion in debt to public unions. Greed is a huge motivator in our elections," one user wrote.
"I'd tell them all, they can get back to work or they're fired. I understand why people like being in a union, don't have to work as hard, good pay, etc. The end result is a wildly more expensive project and an organization that promotes mediocracy instead of excellence. It's not fair to the actual hard workers that get stuff done, or to the American people that have to foot the expensive bill for hiring unions," said another.
"Before I retired, I was forced to be in  a union, the DPSRC not being a right to work state.  I crossed picket lines then, and I would again today.  Ken Jennings has the right to do so, and I believe that he is correct in his actions," commented a third.
"*" indicates required fields