Jason Aldean just rolled out his powerful new song, "Try That in a Small Town," and the predictable reactions resulted. On one hand, the left went absolutely berserk and CMT canceled it while others smeared it as being "pro-lynching," a claim that Aldean definitively denied on social media. And while those types lost it, conservatives loved the song and sent it to #1 on the iTunes charts.
That stuck it ahead of the pop culture music that typically does far better than country, such as rap and Taylor Swift's pop songs, and stuck it ahead of the Morgan Wallen and Luke Combs songs that did so well recently, particularly Wallen's red-hot "Last Night." Here's the iTunes chart, with Aldean's song in the top spot:
And in addition to the song charts, it has topped the music video charts, as can be seen here: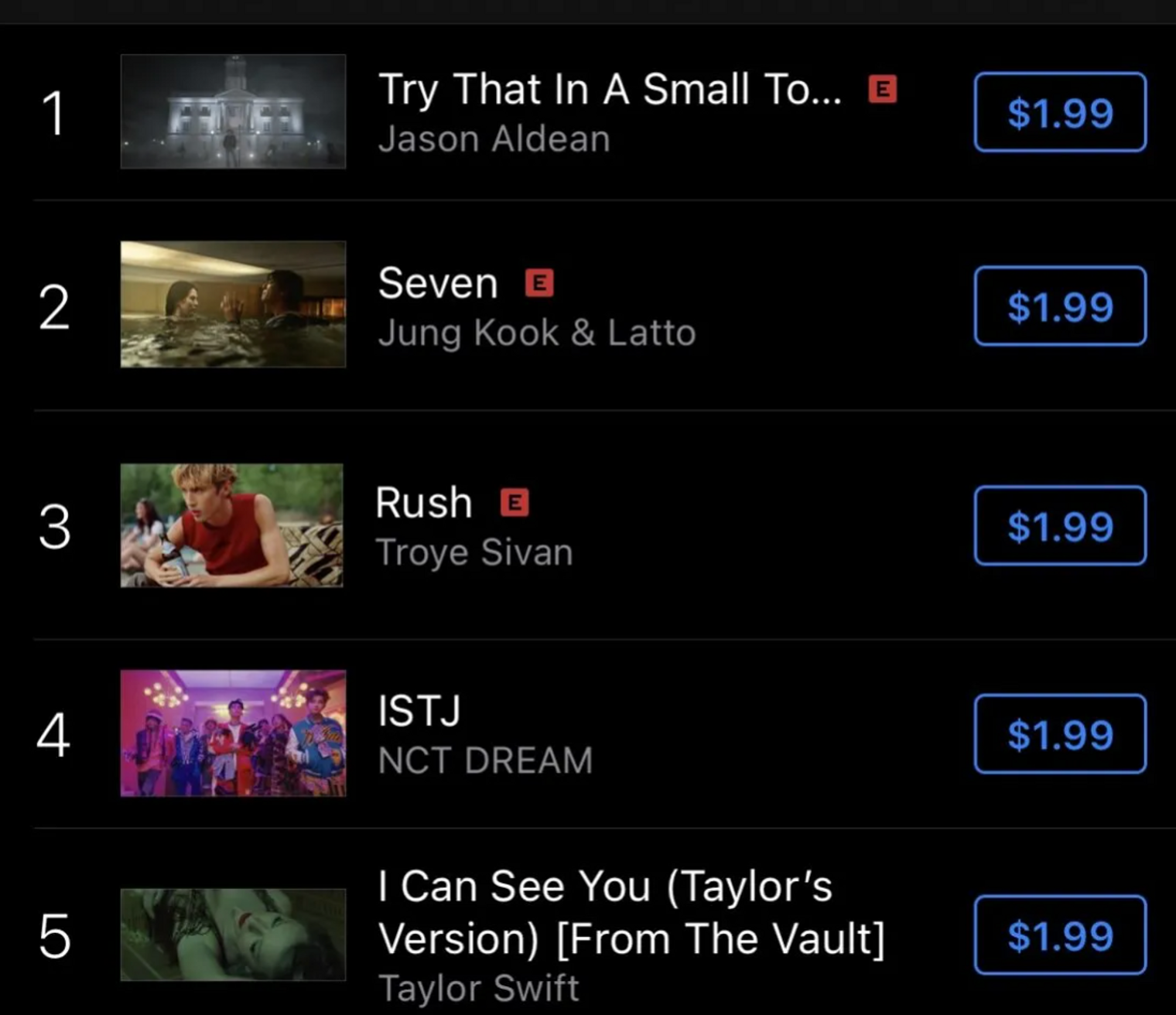 Helping the song rocket to the top is that it, like "Boycott Target," has become part of the culture war fight. Conservative Twitter personality Collin Rugg, for instance, tweeted about the song after CMT decided to pull the music video that was performing so well.
Rugg, tweeting about the matter, noted the hypocrisy in how the pro-America song is being treated and how extremely graphic and violent rap music is often treated. He said, "NEW: Country Music Television has pulled Jason Aldean's music video 'Try That In A Small Town' in response to media outrage. In the music video, Aldean calls out left-wing violence, specifically violence against law enforcement. Apparently this is 'controversial' and hateful according to the left. "Sucker punch somebody on a sidewalk, carjack an old lady at a red light. Pull a gun on the owner of a liquor store. Ya think it's cool, well, act a fool if ya like. Cuss out a cop, spit in his face. Stomp on the flag and light it up. Yeah, ya think you're tough," the lyrics read. "Well, try that in a small town. See how far ya make it down the road." Rapping about drugs and murdering people: ✅ Singing about standing up to lawlessness: ❌"
NEW: Country Music Television has pulled Jason Aldean's music video 'Try That In A Small Town' in response to media outrage.

In the music video, Aldean calls out left-wing violence, specifically violence against law enforcement.

Apparently this is 'controversial' and hateful… pic.twitter.com/Jq9D678s6G

— Collin Rugg (@CollinRugg) July 19, 2023
Commenting on Rugg's post, lots of people came out in support of Aldean. One, for example, said, "I sincerely hope this song and video crashes the internet. One country artist writes about a very current issue and he's attacked. How many other artists so the same without the same treatment. CMT will hopefully come to regret this. Great song."
Another said, that CMT's attempt to cancel the song backfired, writing, "I probably never would have even known about this song if CMT didn't ban it so thanks CMT for bringing awareness to this issue! I'm going to be adding this song to my playlist."
Aldean, for his part, has hit back against the allegations as well, not backing down a bit. In a statement released to Twitter, he said, in part, "These references are not only meritless, but dangerous. There is not a single lyric in the song that references race or points to it- and there isn't a single video clip that isn't real news footage -and while I can try and respect others to have their own interpretation of a song with music- this one goes too far."
Featured image credit: screengrab from the embedded video
"*" indicates required fields