Another round of the Twitter Files came out on Tuesday and, as could be expected, they showed yet more collusion between agents of the government and those formerly in charge of or running the social media platform.
One particularly egregious detail exposed by journalist Matt Taibbi was that Twitter was taking orders from, and zapping accounts at the behest of, all sorts of individuals and groups within the government, including Adam Schiff. Writing about that, Taibbi said:
25.Twitter was taking requests from every conceivable government body, beginning with the Senate Intel Committee (SSCI), which seemed to need reassurance Twitter was taking FBI direction. Execs rushed to tell "Team SSCI" they zapped five accounts on an FBI tip:
26.Requests arrived and were escalated from all over: from Treasury, the NSA, virtually every state, the HHS, from the FBI and DHS, and more:
27.They also received an astonishing variety of requests from officials asking for individuals they didn't like to be banned. Here, the office for Democrat and House Intel Committee chief Adam Schiff asks Twitter to ban journalist Paul Sperry:
Attached to the tweet about Adam Schiff asking for Paul Sperry to be banned was an image showing the allegation to be true. Here it is: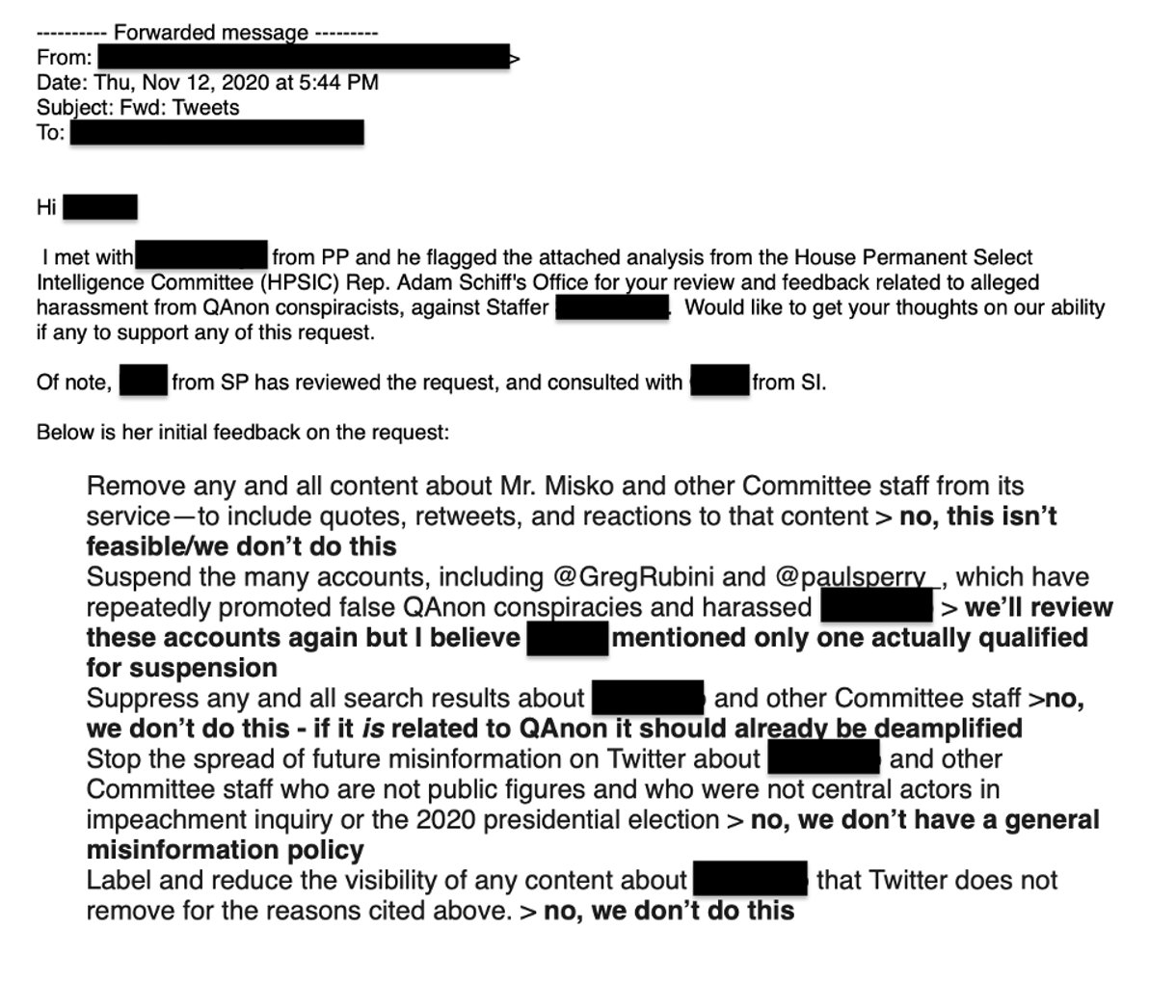 Twitter owner Elon Musk was paying attention to the new Twitter files release and tweeted about it, responding to the tweet about Adam Schiff with the comment "Hey @RepAdamSchiff , what's this?"
As could be expected, the Elon tweet brought out some great comments and commentary.
Judicial Watch's Tom Fitton, for example, said "Unethical abuse of office by Schiff to censor journalist and other Americans who had questions about/objected to Trump impeachment. Will House take action?"
Similarly, Twitter personality Nick Flor both called on Kevin McCarthy to show he has the guts necessary for a fight by taking advantage of this to attack Schiff, and said that this is important because it shows the real problem is the Democrats, not individual agencies. In his words:
"Exactly. Well @kevinomccarthy? You're aiming for Speaker of the House. Now is your chance to prove to the public that you're not all talk. Give a public statement on what exactly you're going to do about Schiff's abuse of his office and #1A, if you're voted in as Speaker."
"I'm glad the Twitter Files are focusing again. Previous dumps put too much blame on federal agencies ― when the real culprits, the Puppet Masters, were the DEMOCRAT politicians like Schiff. #1A Violation Lock. Him. Up."
This isn't the first time that Musk has gone on the attack against Adam Schiff. As our friends at Trending Politics News reported:
In late December, Musk absolutely destroyed Schiff by making fun of his small brain. Schiff and other Democrat politicians have been going after Musk in recent weeks however the billionaire is not having it.
The comment from Musk came in response to a tweet from Schiff which read: "Elon Musk calls himself a free speech absolutist, to justify turning a blind eye to hatred and bigotry on Twitter. But when journalists report unfavorable news, they are banned without warning. The devotion to free speech is apparently not that absolute. But the hypocrisy is."
"Thankfully, you lose your chairmanship very soon," Musk shot back while referring to Schiff's position in the House Intelligence Committee. "Your brain is too small."
"*" indicates required fields