Having learned nothing from Bud Light, soap giant Dove could be the next example of "go woke, go broke."  The beauty company faces growing backlash for partnering with black lives matter activist Zyanha Bryant. She is a controversial figure who was accused of trying to get a University of Virginia student expelled for allegedly "misheard" comments.  She accused Morgan Bettinger, a rising senior at UVA, of claiming protestors blocking a Charlottesville road would make "good speed bumps."  According to reports, Bryant later admitted that she likely "misheard" Bettinger.
The activist was recently hired as a "Dove ambassador," apparently adding value to the brand by promoting "fat liberation."  Subsequently, consumers have revolted against Dove, vowing to treat the brand similarly to the disgraced Bud Light.
A social media post from Carol Thorpe has taken off, showing an image of her Dove products that she dumped in the trash can after hearing of the company's partnership with Zyahna Bryant.  Thorpe slammed the brand, claiming she would never buy its products again.
"After hearing that Dove Beauty chose Zyahna Bryant – who ruined Morgan Bettinger's life – for their "fat acceptance ambassador", THIS lifelong large lady & now former Dove customer tossed out the last three bars of Dove product she will EVER buy. I have written to Unilever, too," she wrote on X (formerly known as Twitter).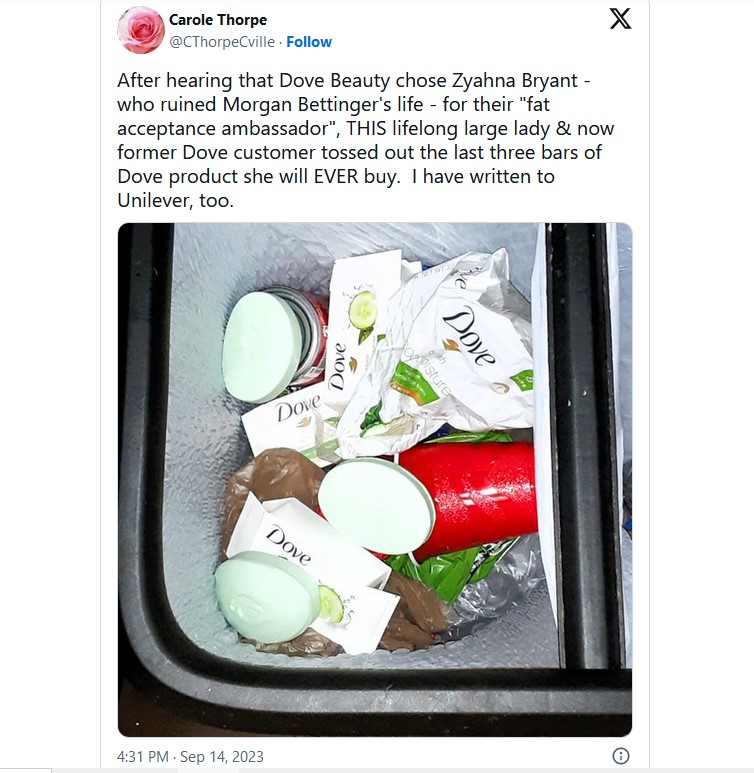 Users on social media have joined Thorpe, sharing the same sentiment that they will no longer purchase Dove products.  One person said, "As a LIFETIME — yes, you heard that right, a lifetime #Dove user, you cannot hire bullies, liars, and those who discriminate to market your product and expect to retain your market base… I will stop using your product in a second.  Full stop."
Elon Musk also weighed in on the controversy, succinctly stating the situation is "messed up."  Musk was commenting on a video of Bryant shared by End Wokeness, where the activist went on a lengthy monologue regarding her "fat liberation" campaign.
"My belief is that we should be centering the voices and experiences of the most marginalized people and communities at all times. So when I think about what that liberation looks like, to me, it looks like centering the voices and the experiences of those who live and who maneuver through spaces and institutions and a fat body," Bryant said.
The Dove ambassador further explains the initiative of "fat liberation" as having conversations about people who have "different bodies" as she euphemistically put it.  Apparently, such differently-bodied individuals engage with society in a different way that merits extra attention.
"It looks like making accessible spaces and having conversations that are aware of the fact that people have different bodies and that they are interacting with space and people and institutions and communities in a different way. Fat liberation looks like fully embracing those differences and having those conversations instead of shying away from them to learn more about fat liberation in the campaign for size freedom that dove is supporting visit.com forward slash signs freedom tap in join the campaign support the campaign. This is important and we should all be talking about it," she concluded.
Messed up

— Elon Musk (@elonmusk) September 14, 2023
Note:  Featured image is as screenshot from the embedded video.
"*" indicates required fields