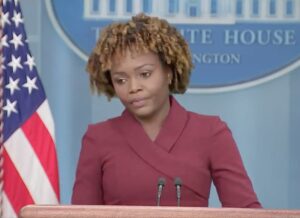 White House Press secretary Karine Jean-Pierre held a press conference following the release of Brittney Griner on Thursday where she spoke about the efforts made by President Joe Biden and his administration to free the WNBA player.
The deal has been a hotly contested one as news surfaced that in return for Griner, the United States would be releasing international arms dealer Viktor Bout who was being held on charges including conspiracy to kill Americans.
Here is what Jean-Pierre had to say on the matter in her most recent press briefing.
"President Biden keeps his promises, and today he fulfilled a deeply important promise to bring Brittney Griner home to a family that loves her, a team that misses her, and a country that has marveled at her strength and courage. Brittney's safe return home is the product of months and months of painstaking negotiations that were the culmination of extraordinary efforts across the U.S. government. Officials from the White House, the State Department, and across the administration worked tirelessly and relentlessly to see this moment through. As the secretary of state said publicly in July, we have been engaging in intense negotiations with Russia, pursuing many different avenues over the course of the last six months to secure Brittney's release. And we know Brittney fought tirelessly too.
"Throughout her ordeal, we saw Brittney, a two-time Olympic gold medalist for team U.S.A. demonstrates strength, courage, and dignity. As the President said this morning, she represents the best of America. I had the opportunity to speak to Cherelle Griner a couple of hours ago, who was looking forward to seeing Brittney as soon as she returned home later today."
Calling Griner "the best of America" is an awfully strange way to describe a woman who has been suspended by the WNBA for a domestic violence incident in 2015 and was forced to undergo a 26-week domestic violence counseling course as part of a connected plea deal.
Peter Doocy from Fox News was quick to point out the ridiculousness of the deal that the Biden team settled upon.
"They gave up a professional athlete. We gave up a prolific arms dealer who was convicted of trying to kill Americans, who is called the 'Merchant of Death.'"
Peter Doocy grills Jean-Pierre on Brittney Griner swap:

"They gave up a professional athlete. We gave up a prolific arms dealer who was convicted of trying to kill Americans, who is called the 'Merchant of Death.'" pic.twitter.com/5KtTvPL1iV

— TheBlaze (@theblaze) December 8, 2022
Many Americans were unaware, until recently, of who the "Merchant of Death" was before these talks of a prisoner swap began. His name is Viktor Bout and CNN gives the following explanation of why his release is so worrying.
"Bout, a former Soviet military officer, was serving a 25-year prison sentence in the United States on charges of conspiring to kill Americans, acquire and export anti-aircraft missiles, and provide material support to a terrorist organization."
This trade is made even worse by the fact that U.S. Marine vet Paul Whelan is still imprisoned, which was highlighted by Senator Rick Scott on Twitter.
"I'm glad Brittney is coming home…but what about U.S. Marine vet Paul Whelan? He's still held by Putin in Russia. For Biden to give Putin a dangerous arms dealer – someone known as the "Merchant of Death" – is weak & disgusting. Doing so while leaving Paul behind is unforgivable."
Image credit: screengrab from embedded video
"*" indicates required fields