Candace Cameron Bure's 24-year-old daughter, Natasha Bure, just took to her Instagram story to post about why she had decided to start dressing differently, moving from sexualized clothing that shows a lot of skin to dressing modestly.
Speaking about that decision and why she made it, Natasha Bure said, "Modesty & I have come a long way truthfully." Continuing she added that the change is a relatively new one for her, she said, "A year or two ago I dressed COMPLETELY different and showed WAY more of my body than I ever needed to."
She then added that before she decided to change how she dresses and turn toward modesty, she was finding her self-worth in dressing in a way which made her feel attractive, which was by showing a good bit of skin. "A lot of that came from where I was finding my worth and thinking that showing more skin, was more attractive," Natasha said.
From there, she described how she now thinks. In her view now, dressing in a way that is "classy" and modest helps her show her true self worth and she is confident wearing them because she knows what they represent. "I actually think the opposite now. I think dressing classy & upholding modesty is so beautiful. I'll actually feel myself 100x more & am so much more confident in outfits that show less skin," she said.
Natasha also said that she wants to dress stylishly, but knows that doing so doesn't have to be suggestive, saying, "I still want to dress stylishly and keep up with the trends but I don't ever want to compromise my values. I want my words and how I present myself, to match!!"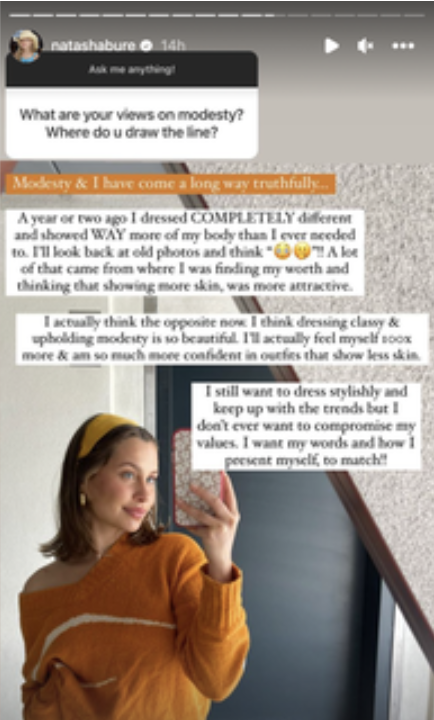 Natasha isn't the only Bure family member to take a public stand on an issue in a way that the sex-obsessed left really doesn't like. Her mother, Candace Bure, did as well, leaving Hallmark and moving to Great American Family because Hallmark had moved to the left and started pushing LGBTQ+ storylines.
That came during an interview with the Wall Street Journal, during which she explained her move and said, "My heart wants to tell stories that have more meaning and purpose and depth behind them. I knew that the people behind Great American Family were Christians that love the Lord and wanted to promote faith programming and good family entertainment."
She then got to the core of her disagreement with Hallmark, which is its depiction of marriage and what tradition dictates. "I think that Great American Family will keep traditional marriage at the core," Bure told the Wall Street Journal.
Predictably, that infuriated the left. For example, one pop culture personality, Jojo Siwa, said, "I can't believe after everything that went down just a few months ago, that she would not only create a movie with intention of excluding LGBTQIA+, but then also talk about it in the press. This is rude and hurtful to a whole community of people."
Featured image credit: Natasha Bure Instagram post
"*" indicates required fields