As Americans worry about the Chinese balloons or other airships that have been spotted in the sky or detected by NORAD over the past few weeks in Alaska and the Continental United States, the Chinese are also allegedly causing mischief in Hawaii. There, green laser lights that are supposedly coming from a Chinese weather satellite can be seen.
First, the National Astronomical Observatory of Japan said that the lasers were coming from a NASA satellite. In a video they posted online that showed the string of green laser lights in the sky, lasers that were filmed by a camera atop Hawaii's tallest mountain, Mauna Kea. The video, captured on Jan. 28, showed the lasers at issue and the astronomers said that NASA's ICESAT-2 satellite's topographic laser was responsible for the laser lights. That satellite monitors both sea ice and forests.
But that's not what was really causing the light show. The NOAJ later updated the YouTube post and said that the NASA satellite was not responsible. Rather, according to those astronomers, the "most likely candidate" was a Chinese Daqi-1/AEMS satellite. That satellite, launched last year, is used to track nitrogen dioxide, sulfur dioxide, ozone, and carbon dioxide, according to the China Aerospace Science and Technology Corporation. Watch the lasers here:
The laser show raised eyebrows online for two reasons: MTG and the Chinese balloons.
As almost everyone now knows, the Chinese spy balloon that the Chinese government claimed was a weather balloon traversed the country before finally being shot down over the Atlantic by an F-22. Another aerial object, suspected to be a balloon but not identified publically yet, was then shot down by an F-22 over Alaska. So, with the Chinese doing something suspicious over America again, people are paying attention.
The other reason the space lasers have gained the attention of the internet is Rep. Marjorie Taylor Greene. Before being elected to Congress, she suggested on Facebook that a Jewish Space Laser had set California ablaze. Forbes, reporting on that, said:
The trending of "Jewish Space Laser" apparently was ignited by social media post from first-term Representative Marjorie Taylor Greene (R-Georgia). Her Facebook post was actually from 2018 but re-emerged recently, sort of like a piece of something floating back to the water surface in a toilet bowl.

In her post, Taylor Greene suggested that the 2018 California wildfires may not have been due to climate change leaving vegetation drier and more combustible. No, instead she advanced the theory that, drum roll please, some kind of "space laser" had lit things on fire.
Here's the full post by MTG: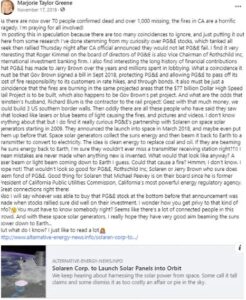 So we'll see what the Chinese space laser does to Hawaii. Hopefully it's just collecting atmospheric readouts and isn't going to start wildfires or conduct any other sort of espionage or sabotage activities from space. But it is somewhat surprising that space lasers are a real thing, even if MTG wasn't correct in her Facebook post.
By: Will Tanner. Follow me on Twitter @Will_Tanner_1
Featured image credit: screenshot from embedded video
"*" indicates required fields